The trusses featured here are made of 100+ year old antique heart pine. The beams for these trusses were milled to 7.5" X 11" and planed by us from 11" X 17" Antique Heart Pine beams that were originally 25' long and taken from a Cotton Mill in South Carolina. We worked with the contractor and home owner to make trusses designed by the architect for this trophy room. We sourced the beams, denailed them and resawed them to size and planed them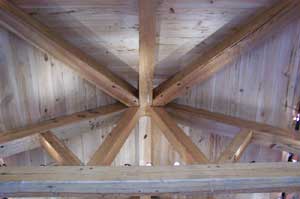 . Then, we cut them to length and mortised and tenoned them together, finally dowel pinning the joints. We then transported them to the site and oversaw the installation of the trusses.
The trusses are 21' in length and feature hip beams at each end which come together with in a compound mitered joint at each end.
These beams were filled in between with pecky cypress Tongue and Groove paneling.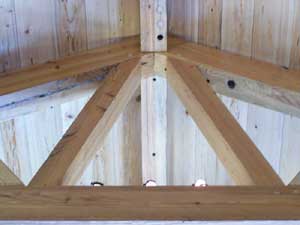 The whole truss structure was assembled at the shop before transporting to the job site, insuring a good fit before the beams ever left the ground.
Click here to view a full gallery of the truss project.
These beams are an integral part of a trophy room designed to provide a suitable visual setting for the displaying of mounts on the walls beneath the exposed beams. (Of course, as far as we are conerned, these 100 year old beams are trophies themselves!)
Species of beams we work with for truss projects include: 100+ year old antique heart pine beams, White Oak Beams, Southern Yellow Pine, Cypress, and Eastern Red Cedar.
Pricing is by the board foot or by the job. Call us for a quote on your next truss project!