We have just added a shop on Etsy mainly to market our new table line.  The first two products are on there.  These are tables made with Twig Iron Bases and Wood tops.  The first tables will be made from wood cut from a hollow log in Southwest Louisiana.  This tree was brought to the sawyer's yard and he ignored it for awhile and finally he custom cut it for us while we were visiting.  Cutting a hollow log is not easy – especially to get the best cuts from it.  But, with a lot of ingenuity, we did it and the results are spectacular.  These tables show off some of this wood, but there is more to come.  I just planed all of the wood from that log and the grain is great!  I am trying to use as much of the live edge as possible in these projects.
Check out the shop here:  http://www.etsy.com/shop/cegwood?ref=search_shop_redirect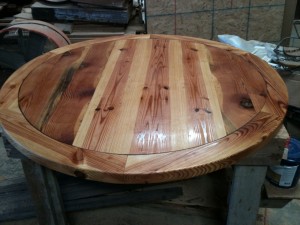 Here is the latest table built for a valued customer.  This was made from wood we denailed and stockpiled for this customer.  Now he is starting to use some of this beautiful wood.  He recently used some in the rough format to make a wine cellar.  Recently he commissioned us to make a round table out of this wood.  This is a 5 ft. table and the top is being put on top of an older oak pedestal table that is being distressed painted.
The river is just right for pulling logs!  Low water, makes it easier for our trained log hunters to find 100 year old sinker pine and cypress logs.  These are logs that were felled over 100 years ago, moved to the rivers edge by a team of at least 8 oxen and then floated downriver to a mill.  Only not all logs made the trip.  The best and densest logs didn't make it.  They could barely float when they hit the water and eventually sank on the way to the mill.  These beautiful logs we are now pulling up.  We know they are from this time period because the brand of the company felling them are branded on each end of the log.
The wood coming out of these logs is phenomenal!  Be sure and check out some of the pictures of this material on this website.  Call us now to determine availability of this beautiful wood.