About
We specialize in large beams – especially White Oak.
Custom Beams, Pergolas, Arbors, Outdoor structures, Flooring, Trusses, Stairs, whatever your needs, we can make it happen. We will work with you to determine your needs and then work to insure the result is what you expect. Many times we exceed expectations!
We can source many types of material, but we specialize in reclaimed material and old wood – wood that has been around for over 100 years.
Custom Tables
Our recent specialty has been tables made from reclaimed materials.  If you have some special wood you would like a table made out of, call us to discuss your project.  We can provide pricing, help with wood selection, and design.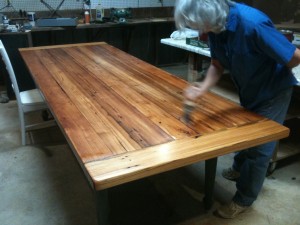 Our State-of -the Art shop features equipment designed for precision wood processing.
We have a wide range of material available from which to make your table, if you do not have material of your own you want to use.
Heart Pine, White Oak, Hickory, Cypress, and Walnut are all available.
Mantles
We have beams and large pieces of wood from which to make mantels.  Big chunks of wood are hard to come by, but we have them.  If you need a rustic mantal for that fireplace, call us to see what is available .  If we don't have it, tell us what you are looking for and we can probably source it.  We are networked with other unique wood outlets and can probably source it.  Don't hesitate to ask!