White Oak Beams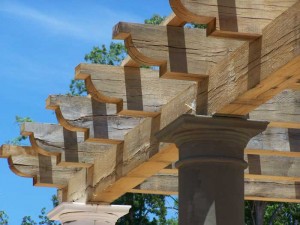 We can provide White Oak Beams in a variety of sizes. Some of the best white oak in the nation is located in this area.. Beams are available in standard and custom sizes. Availability depends on the current weather and market conditions, but usually are available fresh cut within 4 weeks. Smaller orders can have a quicker turnaround time. Call us for details.  Some standard beam sizes:
12 x 12 x16 White Oak Beam
8 x 12 x 16′ White Oak Beam
8 x 8 x 16′ White Oak Beam
6 x 6 x16′ White Oak Beam
Call for large quantity pricing.  If you need  a design cut on the end of the beams there is an additional fee of $40 per end.
Beams are band sawn.  Ends can be left rough or cut to length.
White Oak is a good choice for a rustic beam outdoors.   White Oak has good lasting potential for outdoor applications as long as they are not in contact with the ground.  For overhead applications, white oak will age well and provide a legacy feel to any structure.