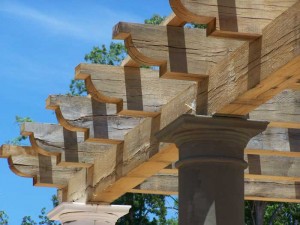 We can provide White Oak Beams in a variety of sizes. Some of the best white oak in the nation is located in this area.. Beams are available in standard and custom sizes. Availability depends on the current weather and market conditions, but usually are available fresh cut within 4 weeks. Smaller orders can have a quicker turnaround time. Call us for details. Some standard beam sizes: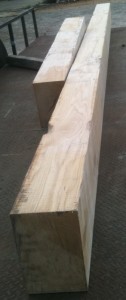 12 x 12 x16 White Oak Beam
8 x 12 x 16′ White Oak Beam
10 x 10 x 16′ White Oak Beam
8 x 8 x 16′ White Oak Beam
6 x 8 x 16′ White Oak Beam
6 x 6 x16′ White Oak Beam
Custom sizes are available in any dimension, with lengths available up to 26 feet.
Call for large quantity pricing. If you need a design cut on the end of the beams there is an additional fee per end.
Beams are band sawn. Ends can be left rough or cut to length.
White Oak is a good choice for a rustic beam outdoors. White Oak has good lasting potential for outdoor applications as long as they are not in contact with the ground. For overhead applications, white oak will age well and provide a legacy feel to any structure.
We can now offer smoothed White Oak timbers, so that the band saw marks are removed and the beam is smoother than rough sawn.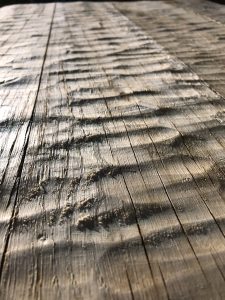 Also, we are now producing hewn look beams that provide a more rustic and textured surface for your beams. These beams work great as mantles or exposed beams where you want an authentic, rustic look.
As the white oak beam ages, it just looks better and better, especially if you want an authentic rustic look.
Call us to discuss the right white oak beams for you. Or, email processingwood@gmail.com with your list of needed white oak beams to receive a quote. Be sure and include the zip code where the beams will be shipped so we can properly calculate shipping costs.
White Oak Photo Gallery