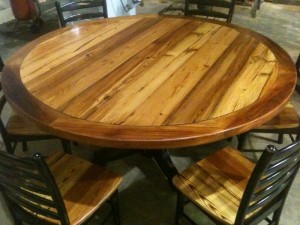 We have some new table designs that are becoming popular.  Our circular heart pine table design provides a thick looking rich top, yet utilizes flooring for the center of the table to save on material and provide the ability to match table top with flooring.
This design utilizes thick material for the outer band and thinner, T&G flooring for the center.  As you can see, the result is a beautiful, unique table.  The price of a custom table of this size out of heart pine is $2000.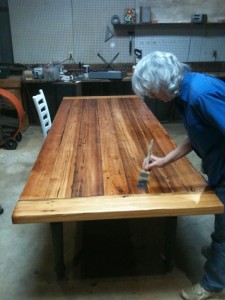 We also build rectangular tables with this same type of construction.  This is a 42″ X 10′ table made to a customers specifications.
The legs are standard turned table legs finished with a dark milk paint.
The nail holes and usage markings were left in the table top.  The outer band is 2″ heart pine.  The boards in the center are 3/4″ T&G heartpine flooring.  The supports underneath are hickory.
A custom table of this size out of heart pine is $1500.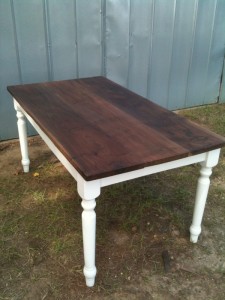 We make tables from locally sourced wood also.  These tops are solid material, such as this beautiful walnut table.  A table of this type is priced at $500.