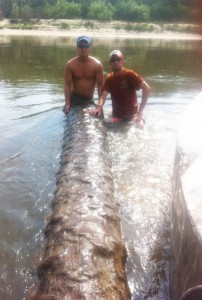 This beautiful Curly Sinker Pine log was just pulled from South Louisiana waters. It appears to be full of beautiful curly sinker pine material, which means its got a lot of swirls and colors going on in this log. (The bumps on the outside indicate activity inside.)
We are pulling logs NOW from these waters and have material ready for immediate shipping.  Call 601-668-9697 for pricing.
This material is best processed into Vertical Grain material.  Most of these logs produce SELECT PRIME quarter sawn lumber, which is perfect for producing flooring.  The wood in these logs has turned color and when opened up and dried provides a beautiful ranges of shades that really produces a unique floor.
Vertical Grain – Kiln Dried Sinker Pine lumber is available for shipping.
Curly, Sinker Pine 3″ live edge slabs are available  for shipping.
QuarterSawn, Sinker Pine Flooring is available – call for pricing.